Khát vọng thực hiện sứ mệnh "Make in Vietnam"
09/10/2021
App & API Protector
12/01/2022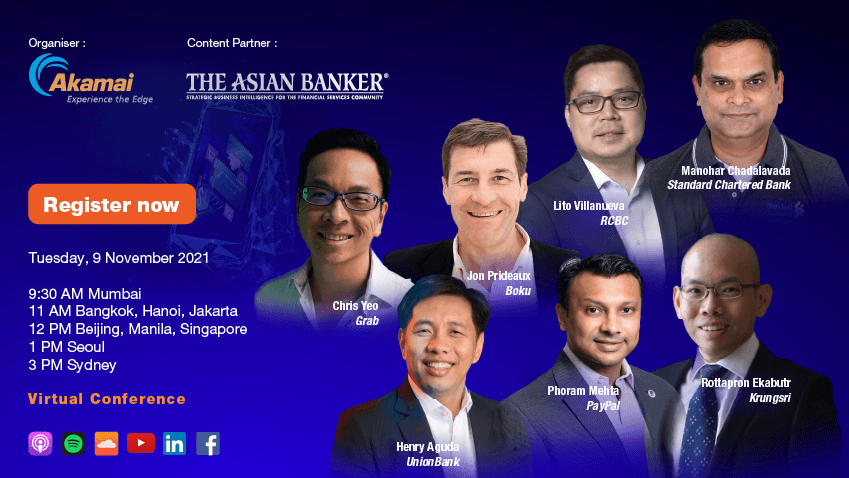 Governments and central banks across the Asia Pacific are leading standardisation and interoperability initiatives. Fintechs and commercial banks are developing cross-border platforms to facilitate faster payments and lower transaction fees. Even traditional institutions are developing innovative services to drive revenue and deliver more seamless customer experiences.
It is no surprise the region saw 377 billion mobile wallet transactions worth a total of $4.1 trillion in 2020, according to the Boku Mobile Wallets Report 2021. The volume is still growing in leaps and bounds with the adoption of 5G, mobile commerce and other platforms that rely on digital payments. And where there is that much money…cybercrime, too, is on the rise.
Payments Summit APAC 2021, in association with Akamai Technologies, will discuss and debate the future of the payment landscape. In this highly interactive session, you'll gain a detailed understanding of what banks and e-commerce platforms need to do to prepare for the future of digital payments, including:
New trends that are creating opportunities for new payment experiences
Building resilient digital payment systems and infrastructure
Strategies to effectively detect, prevent fraud, and reduce losses while minimising customer friction
Leveraging and monetising data as alternative revenue stream
The agenda
Payments Summit APAC 2021
Tuesday, 9 November 2021
11:00 – 11:20
Welcome keynote
by Foo Boon Ping, Managing Editor for, The Asian Banker
Leadership Dialogue
Parimal Pandya, Managing Director, Asia Pacific and Vice President of Sales, Akamai Technologies
Aparna Rayasam, Senior Vice President and General Manager, Application Security, Akamai Technologies
Foo Boon Ping, Managing Editor for The Asian Banker
11:20– 11:55
APAC Open banking and platform as a service: Leveraging data and API connectivity
Leverage AI, ML RPAs, and data to enable an open API platform
Create new business models to deliver alternative revenue streams and seamless customer experience
Banking as a service vs. banking as a platform
Cloud migration and platform as a service (PaaS) to lower cost and secure data
Guests include:
Henry Rhoel R. Aguda, SEVP, Chief Technology and Operations Officer & Chief Transformation Officer, UnionBank
Manohar Chadalavada, Managing Director, Global Head AI, Ecosystems and Open Banking, Standard Chartered Bank
Rottapron Ekabutr, Executive Vice President and Head of Consumer Digital Solution Division, Bank of Ayudhya (Krungsri)
Hosted by: James Richmond, Regional Manager, Akamai Technologies
11:55– 12:10
Briefing on:
Cross-border payments in a real-time world
by Mobasher Zein Kazmi, Head of Research, The Asian Banker
12:10 – 12:45
Exploring strategies for payment fraud prevention
Reduce risk of wholesale payment fraud from endpoint security
PaaS to achieve scale, speed and security in payments
Empower operational resilience in the digital payment landscape
Instant payments and open data enable fraud – how do banks prevent it?
Guests include:
Phoram Mehta, Senior Director, Chief Information Security Officer APAC, PayPal
Jef Hu, Head of Security Solutions, South Asia, Akamai Technologies
Hosted by: Sorin Toma, Cyber Security Advisor, Emerging Payments Association Asia (EPAA)
12:45 – 13:20
Future of digital payments: Rise of e-wallets and embedded finance
Explore and enable new peer-to-peer payment business models to drive loyalty and usage
Leverage unified payment platforms to deliver seamless customer experience
Rise of BNPL – accelerating new business lending model through APIs, AI and ML
Productising and monetising data to achieve payment profitability
Guests include:
Chris Yeo, Managing Director and Head of GrabPay & GrabRewards, Grab Financial Group
Jon Prideaux, Chief Executive Officer, Boku
Lito Villanueva, Executive Vice President and Chief Innovation and Inclusion Officer, Rizal Commercial Banking Corporation (RCBC)
Hosted by: Deepa Parikh, Head of Solutions Engineering, Akamai Technologies
13:20 – 13:30
Closing remarks
by Foo Boon Ping, Managing Editor for, The Asian Banker
Register Now: Payments Summit APAC 2021 Powering and securing the future of payments | RadioFinance